In birae predestinas
Shortly before his death in 1564, Calvin, who was already unwell, would spend many hours cloistered in his house at rue des Chanoines in Geneva.
Strange odours would emerge from his laboratory and percolate right up to the foot of the ramparts. He was even suspected by his enemies of practising alchemy – a pursuit forbidden by the Inquisition!
In fact, assisted by a former Trappist monk, he was learning the art of brewing beer. His doctors had forbidden him to consume any communion wine, so terribly did its abysmal quality affect his complexion and gnaw away at his internal organs. Alas, one fine Sunday in May, a dreadful bilious attack put a premature end to his life and his work.
In memory of Calvin, we, the Papinot Brothers, have resumed his valuable research. After countless efforts, we have finally succeeded and the Calvinus beers have been born.
A beer finely scented with coriander and orange peel!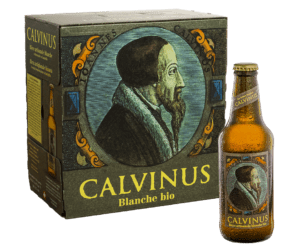 6 pack version
Our organic Calvinus white beer is also available in a 6 x 33cl version!
DESCRIPTION
A white beer 5.2% on lees, based on wheat and malted barley, refermented in the bottle with fresh yeast, lightly spiced with coriander and orange peel giving it a refreshing and lightly acidic character.



15 IBU, light aroma of hops, no pronounced bitterness

Colour: Dark straw yellow

Yeast flowery, fruity aromatic, spicy, full-bodied

Drink in a range of 3° and 5°C
Composition
Springwater, wheat, barley, hops, yeast, coriander, and orange peel all from organic farming


33cl returnable bottle with mechanical closure Energy: 170 kj | 41 kcal
Fat: 0.5 g | of which saturated: 0.1 g
Carbohydrates: 4 g | of which sugars: 0.5 g
Proteins: 0.5 g
Salt: 0.0 g
Carbonic acid: 6
ALLERGENS
Cereal containing gluten